FIRMA CONVENIO FJJ-FCG 2021
On 28 November 2021 at 12 noon at the Polytechnic University of Lugo, Ángel Jove González, President of the Fundación Jorge Jove, and Luis Seoane Labandeira, President of the Fundación do Campo Galego, signed an agreement for the transfer, until 31 December 2040, of the following wheeled agricultural tractors: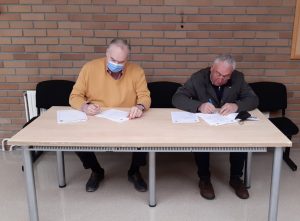 Deutz D 50
Motrannsa Nuffield
John Deere 515
Taissar 580 B
Of the various exhibition rooms in the Museo do Campo, the material on loan is on display in the "fodder and cereal room". The current valuation of the goods on loan is set at 14.900€. With this collaboration agreement, the Jorge Jove Foundation renews its commitment to the consolidation of the Museo do Campo Galego.
The Jorge Jove Foundation has been involved with the Fundación do Campo Galego since its beginnings, contributing 113.800€ at its foundation. 
This materialised in the form of a Barreiros R 545 and the Museum Plan and project. In addition to this contribution, Angel Jove, President of the Jorge Jove Foundation, donated hundreds of objects for all the rooms, especially for the room showing the evolution from the Palaeolithic to the Middle Ages.